April 11, 2006 - B.uy M.y W.heels?
After nearly a week of nothing new in the realm of freebies, I was just about to call it quits... Then today's mail came... BMW, obviously not one to be outdone (or out-performed) by rival Mercedes, sent over this lovely BMW keychain. I checked the price at the official BMW merchandise website, and it lists for $18, so that was certainly nice of BMW. There was no letter (nor anything else) included with the keychain, so I'm guessing that the opportunity to correspond isn't desired/required in this case (as it was with Mercedes). I can only wonder if someone at BMW saw this website... In any event, thanks to BMW for the loot. As for me... I'll continue to muddle along, waiting for additional freebies to arrive sporadically...

BMW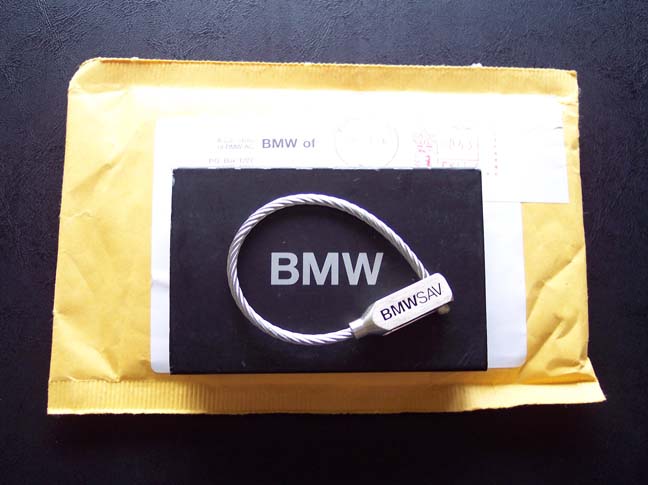 Who the hell is Tucker Carlson?


A producer from MSNBC e-mailed me wanting me to appear for a few minutes (on VERY short notice) on some show called The Situation with Tucker Carlson. Now, I don't watch late night TV. In fact, I don't watch any TV — I think it rots the brain, and with all of my Internet use, I simply can't afford that. In any event, I Googled for "Tucker Carlson" and didn't find anything of interest. I Googled for "Tucker Carlson sucks" and found plenty of matches, however. With that in mind, I declined MSNBC's interview. I didn't feel like driving (or bicycling) for an hour to a TV studio in downtown Chicago only to spend five minutes talking to a camera to a guy named "Tucker" only to face an hour bike ride back — let alone on one day's notice.

The $39 Experiment: Safe for Senior Citizens


I was recently e-mailed by one "Glenn" of North Carolina. Amongst other things, Glenn says:

What a great idea. Your letters were so witty and I could not stop laughing. I just showed my father who is 82 years old. He was laughing so hard, I thought he would drop dead on my computer. I had to calm him down.

There you have it, folks. Scientific proof that The $39 Experiment is safe for young and old alike.
Freebies Summary
Who?
What?

approx. $

Fellowes
Four cans of compressed air
$32.00
Carma Labs
One jar of Carmex
$1.29
Stash Tea
Nine teabags
$1.80
White Castle
19 burgers, 2 breakfast sandwiches, 2 orders of Chicken Rings
$12.37
Airborne
One free tube of Airborne
$5.99
Reynolds
Two 50-cent coupons
$1.00
S.C. Johnson
One free ($3 max.) Skintimate coupon
$3.00
Church & Dwight
Two $1 Arm & Hammer coupons
$2.00
Pfizer
Three 50-cent Purell coupons
$1.50
Pepsi
Pepsi pen, pencil, stickers, and gift catalog
N/A
Biotene
Free samples of gum, toothpaste, and mouthwash
N/A
Burt's Bees
Free stick of Burt's Bees
$1.87
Dunkin Donuts
Book of five $1 gift checks
$5.00
Mercedes Benz
Mercedes keychain
$30.00
Eden Foods
Pasta, tea, soymilk
$9.54
Chicken of the Sea
Two $2 coupons, one 25-cent coupon
$4.25
Sanford
Four pens
$5.00
Gatorade (aka Pepsi)
Three 60-cent coupons for Propel
$1.80
Nestle
Two coupons for Nestle candy
$1.00
Max and Erma's
A hat and travel cup
$15.00
Dairy Queen
Three $1 gift certificates
$3.00
Del Monte
Five coupons for dog snacks
$5.25
Celestial Seasonings
Three sample teabags, three coupons
$5.60
Boston Market
33% of $50 coupon book
$16.67
Campbell's
Four 50-cent coupons
$2.00
Energizer
Three $1 coupons
$3.00
Frito Lay
Two 55-cent coupons
$1.10
Nylabone
A "Double Action Chew" with "Minty Fresh Center" (wolf size)
$9.33
Brownberry
Three $1 coupons
$3.00
Riceland
Three coupons
$2.70
Eight in One Pet Products
A bunch of free dog snacks
$25.00
BMW
BMW keychain
$18.00
32 companies
$229.06