March 15, 2006 - "Tea" Bones
Two more responses today, bringing us some free tea and some free dog snacks. Del Monte Pet Products (#51) sent over a response which indicates that they obviously did read my letter to them. They sent "Lil' Brudder" over five coupons for free and discounted dog snacks. Three 75-cent coupons, one $1 coupon, and one "free" coupon, which I'll give a $2 value. Total from Del Monte: $5.25. Del Monte's response does start off, however, with "Thanks for visiting our website..." Again, I guess nobody writes actual letters to companies these days. Celestial Seasonings (#9) sent over three teabag samples, two 50-cent coupons, and one coupon for a free box of tea. Teabags run 20 cents each, bringing us to $5.60 in freebies from Celestial. Thanks to both Del Monte and Celestial for the goodies. Incidentally, Tuesday (the 14th) was the first weekday since March 1 that nothing at all arrived in the mail. To those keeping track, you didn't miss an update — nothing came in.

To the "Tom Lockes" of the U.K., I'm Sorry


It's come to my attention that The $39 Experiment was mentioned today on BBC Radio 2 in the U.K., which reaches some 13 million listeners. I'm guessing that anyone in the U.K. aspiring to do a similar experiment may have had their cover blown. To those in the U.K. who still opt to try it, good luck!

Exploitation and Guilt Trips


I'm aware of three cases in which people have contacted companies on my list to try their luck at some freebies of their own (companies that sent me something free, obviously). I'm sure it's probably happened dozens if not hundreds of times already. In one case, a person used the exact same letter that I sent and changed only my name! I was forwarded a back-and-forth e-mail conservation between one individual and one company that indicated that they don't sent out free samples (despite having sent me free product). The individual then pointed the company back to this website, and the company responded by saying that they were aware of my exploits and that they were no longer sending out free product. In fairness, my intent was not to provide a list of companies to "slam" with freebie requests for the purpose of "sticking it to them". If someone opts to try their hand at getting free stuff from a company that I had luck with, however, so be it. On the other hand, referring to this experiment as an "exploit" is asinine. Almost every company that I wrote to represents a company whose product I (or my wife in a few cases) own, purchase, and use regularly. Whatever "spin" I put onto any given letter that I sent to a company is irrelevant. The bottom line is that these companies are still making money off of me. I'm still buying their product. I haven't stopped buying the products of companies which rejected my request for freebies, either. With tens of thousands of people following this experiment daily, I'm sure any company that sent me freebies has already made back their "investment" in the form positive exposure to both current customers as well as potential new customers. And quite frankly, any company (on my list or not) can very simply deny or ignore any freebie requests that come in, just as many of the companies on my list already have. No one is forcing them to give stuff away. They can do it to be nice. They can do it to advertise. They can opt not to do it. It's their call. One reader indicated that I should feel guilty for doing this. Well, I don't feel guilty. I'm just the messenger.
Freebies Summary
Who?
What?

approx. $

Fellowes
Four cans of compressed air
$32.00
Carma Labs
One jar of Carmex
$1.29
Stash Tea
Nine teabags
$1.80
White Castle
19 burgers, 2 breakfast sandwiches, 2 orders of Chicken Rings
$12.37
Airborne
One free tube of Airborne
$5.99
Reynolds
Two 50-cent coupons
$1.00
S.C. Johnson
One free ($3 max.) Skintimate coupon
$3.00
Church & Dwight
Two $1 Arm & Hammer coupons
$2.00
Pfizer
Three 50-cent Purell coupons
$1.50
Pepsi
Pepsi pen, pencil, stickers, and gift catalog
N/A
Biotene
Free samples of gum, toothpaste, and mouthwash
N/A
Burt's Bees
Free stick of Burt's Bees
$1.87
Dunkin Donuts
Book of five $1 gift checks
$5.00
Mercedes Benz
Mercedes keychain
$30.00
Eden Foods
Pasta, tea, soymilk
$9.54
Chicken of the Sea
Two $2 coupons, one 25-cent coupon
$4.25
Sanford
Four pens
$5.00
Gatorade (aka Pepsi)
Three 60-cent coupons for Propel
$1.80
Nestle
Two coupons for Nestle candy
$1.00
Max and Erma's
A hat and travel cup
$15.00
Dairy Queen
Three $1 gift certificates
$3.00
Del Monte
Five coupons for dog snacks
$5.25
Celestial Seasonings
Three sample teabags, three coupons
$5.60
23 companies
$148.26
Del Monte Pet Products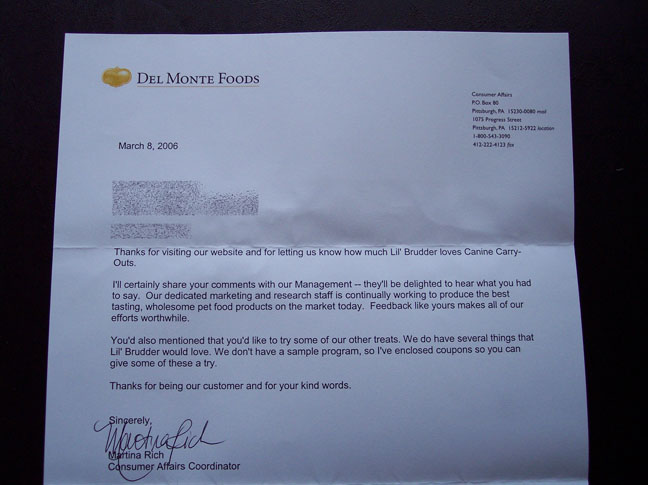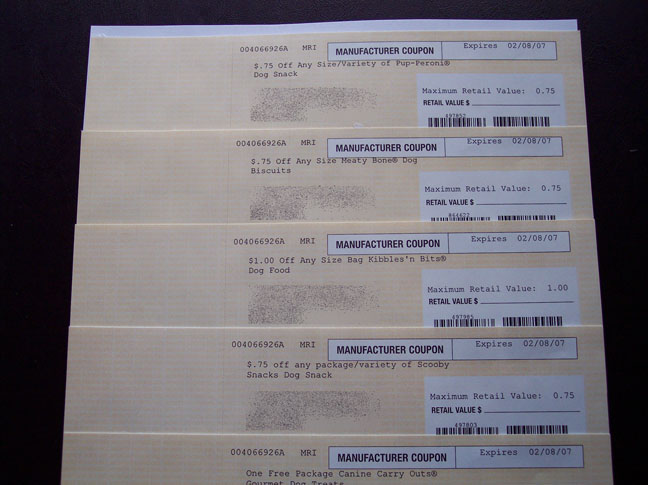 Celestial Seasonings