March 24, 2006 - Hap-py Anni-ver-sar-y, Hap-py Anni-ver-sar-y
One month... Ahhhhhhhhhh... One month ago today, I shoved a thick stack of 100 letters into a mailbox hoping for some free merchandise. I'd say we've done alright for one month, wouldn't you? Unfortunately, today wasn't marked by a refrigerator-sized crate of freebies, as I'd hoped it would be. We did, however, receive a sampling of all the different types of responses — one yay, one nay, and one casualty. The letter to Alamo (#95) bounced back as undeliverable. I guess the sources that I checked for car rental company addresses weren't quite up to snuff... Both Avis and Alamo have bounced back to me thus far. Oh well... I'm going to let this one die. Kim and Scott's (#28), to whom I made a request for free pretzel samples, instead sent me a page listing the pretzels they sell as well as few pages (printed out from their website) with a price list. This one I find really interesting... Here we have a small Chicago company that makes pretzels. I, also from Chicago, write them a letter effectively asking them to turn me into a new customer. I tell them that I had one of their pretzels and that I loved it. I tell them that I'm indecisive and that I'd like to sample different varieties. In my mind, this one is pretty simple. You're a small company who (I would guess) doesn't receive that many requests for free stuff (until now, perhaps). You receive a letter from a new potential customer asking for a free sample. Your response? You send the guy a sample! Instead, I get a price list. Not even a letter thanking me for my interest or for writing or for my enthusiasm in the pretzel that I'd already enjoyed. Is that good business? You tell me. Again — oh well. Brownberry (#48), on the other hand, sent back a small thank you "card" and three $1 coupons good for Brownberry bread. Thanks to Brownberry for the free dough. I will be enjoying another loaf of your oatnut bread — this time, with meat and cheese!

Radio, Video


Now that we've hit the one month mark and nearly half of the companies have responded, I've decided to honor media requests. Radio, TV, you name it. In fact, tomorrow (the 25th), I will be headed down to CNN to talk about The $39 Experiment. I don't know if it's going to be live or pre-recorded, so I can't give you any specifics. Nonetheless, it should be interesting. It will also be interesting to see if — subsequent to CNN coverage — the responses from companies change at all. We shall see!

Just a Little Some'n


In honor of The $39 Experiment's one month anniversary, I've decided to give away a little something (no, not the Mercedes Benz keychain, sorry...) A lot (and I mean a lot) of people have asked for this, so here it is... My original list of 100 company addresses. Now, it's not like these addresses are top secret, but some of them seemed pretty well burried — at least when I was looking for them. Several of these addresses were tough to find, so getting all of them in one place like this is certainly handy. Keep in mind that this is the original list of addresses, so there are some known wrong addresses on here (Boston Market, Long John Silver's, Avis, Ritz Carlton, Alamo, maybe others...) If any other addresses on this list are wrong, don't tell me about them — I won't care, and I'll probably find out anyway when the letters bounce back to me. Finally, to deter the absolute laziest of the lazy from just bombarding these companies with freebie requests, the address list is presented as images to prevent lazy copying and pasting. I know some people are just copying the exact same letters that I wrote (verbatim) trying to get free stuff from companies via e-mail. I figured if I can extend the time that it takes someone to produce a letter by requiring them to actually type out (gasp!) the company address, maybe a few people won't bother. In any event, for those using these addresses to write for free products for charities and fund raisers, good luck and enjoy.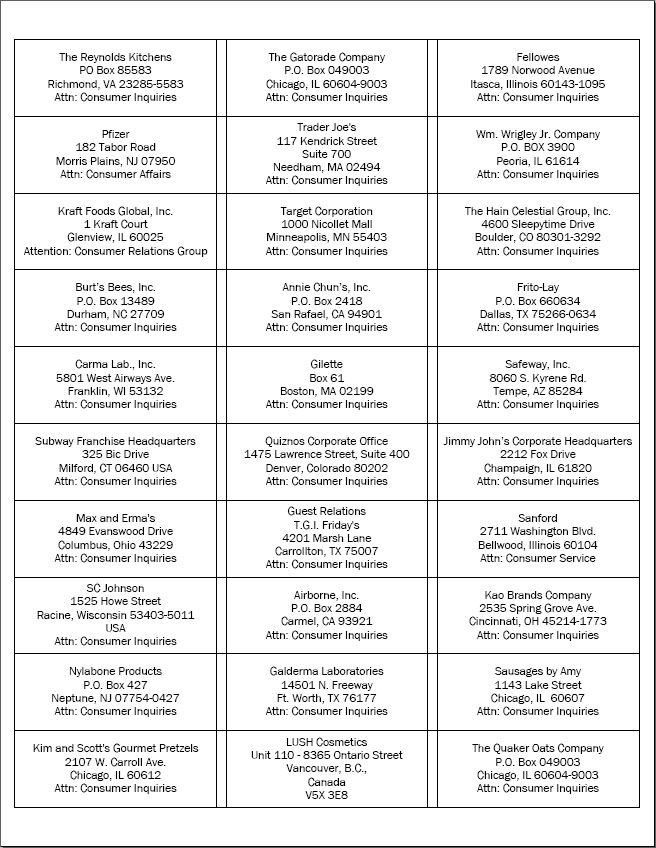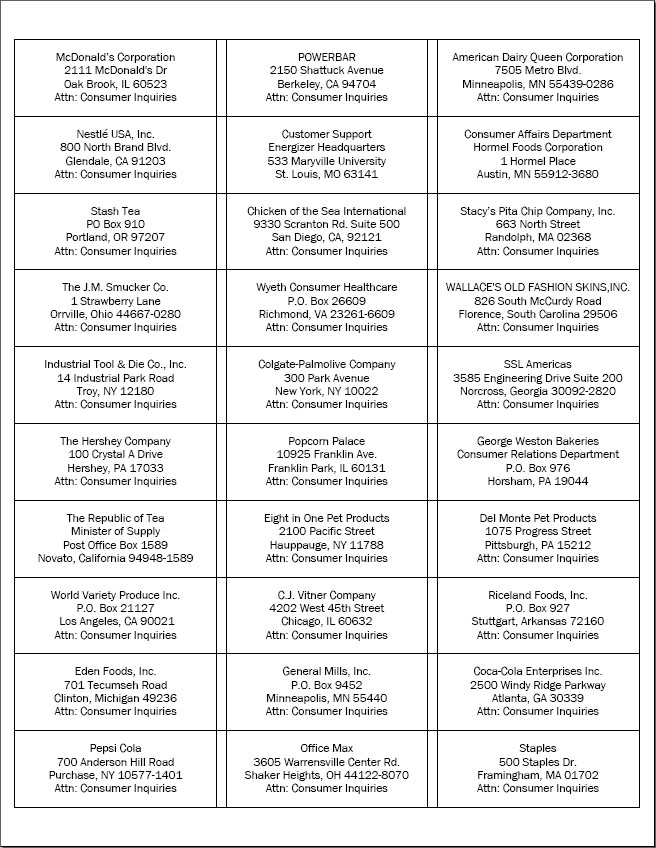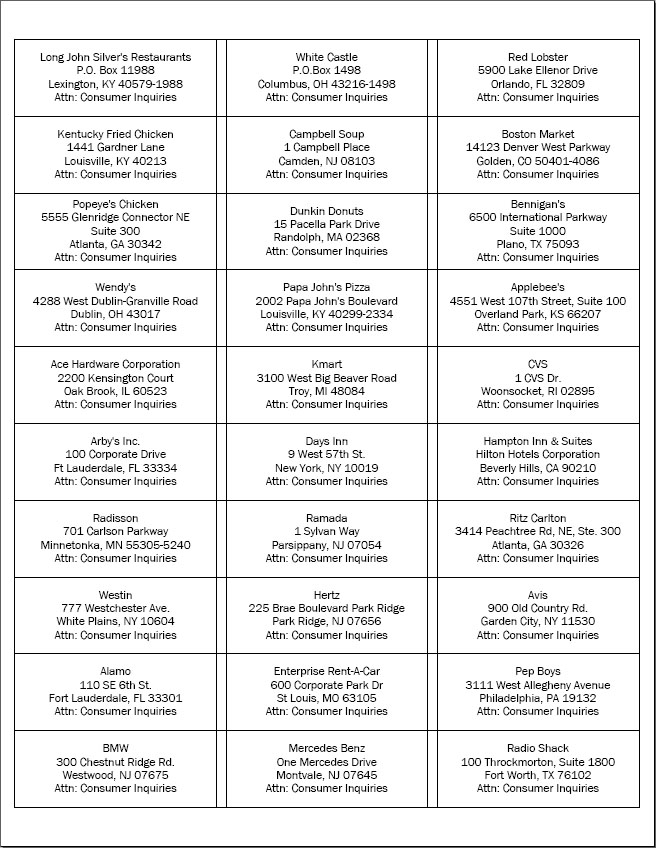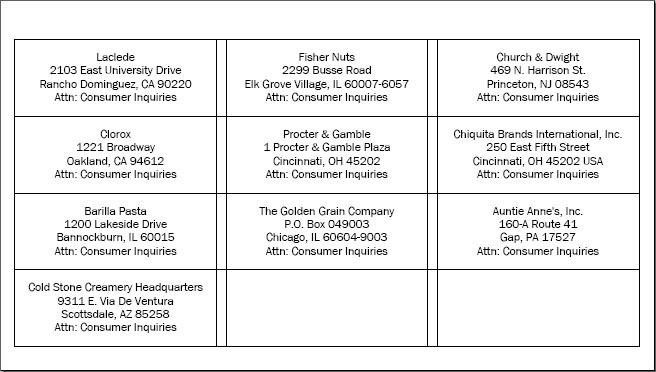 Freebies Summary
Who?
What?

approx. $

Fellowes
Four cans of compressed air
$32.00
Carma Labs
One jar of Carmex
$1.29
Stash Tea
Nine teabags
$1.80
White Castle
19 burgers, 2 breakfast sandwiches, 2 orders of Chicken Rings
$12.37
Airborne
One free tube of Airborne
$5.99
Reynolds
Two 50-cent coupons
$1.00
S.C. Johnson
One free ($3 max.) Skintimate coupon
$3.00
Church & Dwight
Two $1 Arm & Hammer coupons
$2.00
Pfizer
Three 50-cent Purell coupons
$1.50
Pepsi
Pepsi pen, pencil, stickers, and gift catalog
N/A
Biotene
Free samples of gum, toothpaste, and mouthwash
N/A
Burt's Bees
Free stick of Burt's Bees
$1.87
Dunkin Donuts
Book of five $1 gift checks
$5.00
Mercedes Benz
Mercedes keychain
$30.00
Eden Foods
Pasta, tea, soymilk
$9.54
Chicken of the Sea
Two $2 coupons, one 25-cent coupon
$4.25
Sanford
Four pens
$5.00
Gatorade (aka Pepsi)
Three 60-cent coupons for Propel
$1.80
Nestle
Two coupons for Nestle candy
$1.00
Max and Erma's
A hat and travel cup
$15.00
Dairy Queen
Three $1 gift certificates
$3.00
Del Monte
Five coupons for dog snacks
$5.25
Celestial Seasonings
Three sample teabags, three coupons
$5.60
Boston Market
33% of $50 coupon book
$16.67
Campbell's
Four 50-cent coupons
$2.00
Energizer
Three $1 coupons
$3.00
Frito Lay
Two 55-cent coupons
$1.10
Nylabone
A "Double Action Chew" with "Minty Fresh Center" (wolf size)
$9.33
Brownberry
Three $1 coupons
$3.00
29 companies
$183.36
Kim and Scott's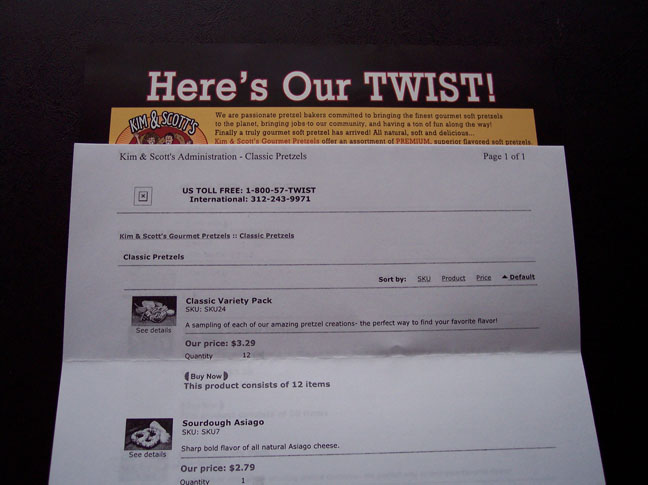 Brownberry